Halo engagement rings have a special kind of brilliance. The way the centre stone is surrounded by a ring of smaller diamonds creates an effect that is both eye-catching and timeless. Halo rings also have a certain vintage elegance, evoking images of classic Hollywood glamour. But what really makes halo engagement rings so special is the way they make the centre stone look larger and more prominent. This can be a particularly desirable quality in an engagement ring, as the centre stone is symbolic of the love between two people.
If you're looking to pop the question in style, a halo engagement ring is definitely the way to go. With their stunning design and eye-catching sparkle, these rings are sure to make her say 'yes!' – no matter what she's expecting.
Meanings Of Halo Engagement Rings
The halo is a beautiful symbol of purity and holiness. It is also a reminder that we are all connected to the divine. When we wear a halo engagement ring, we are reminded of our connection to the divine and our own spiritual power.
The halo design also resembles an aura, which is an invisible manifestation of a person's soul and spirit. In this sense, the halo engagement ring is of particular importance, as it reminds us of our connection to the divine and our own spiritual power. Halo engagement rings come in different shapes and colors, and each one is unique. Whether you choose a round halo or a teardrop halo, you will be wearing a symbol of your own spiritual power and connection to the divine.
Halo Engagement Rings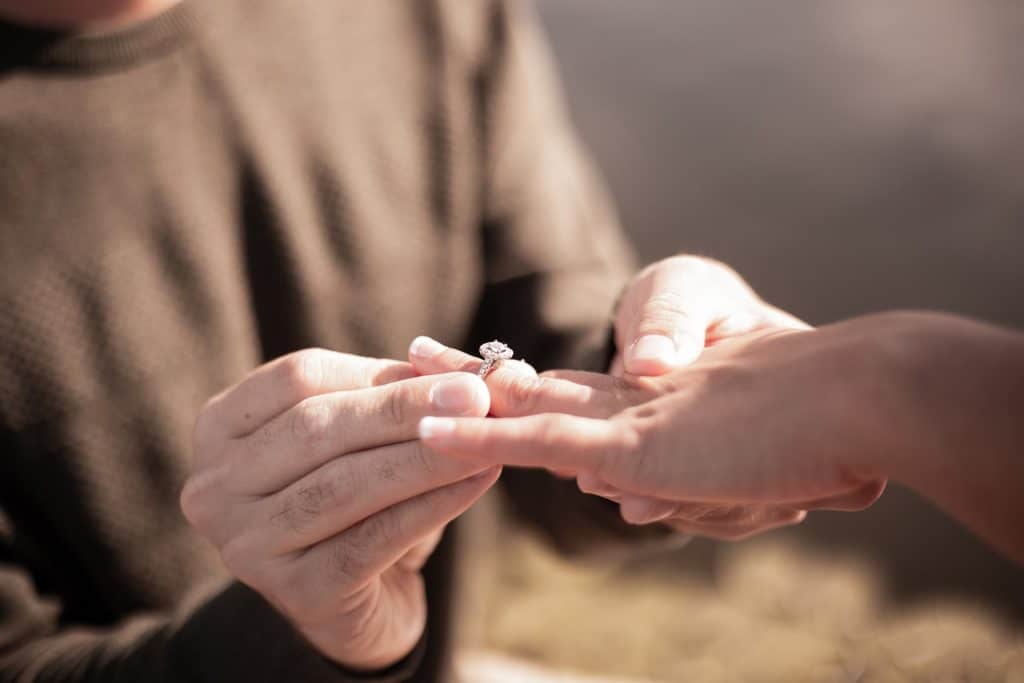 Having trouble deciding what style engagement ring to get your loved one? Well, let us introduce you to our top halo engagement ring picks.
· Pear-Shaped Halo Engagement Ring
There's something about a pear shaped halo engagement ring that is simply mesmerising. Perhaps it's the way the slender, tapered shape of the pear diamond radiates elegance, or the way the halo of round diamonds delicately frames the centre stone. Whatever the reason, this style of engagement ring is sure to turn heads. And with its unique shape, a pear shaped halo engagement ring is sure to stand out from the rest.
· Oval-Cut Halo Engagement Ring
The elongated shape of the oval diamond creates an elegant look, while the halo of smaller diamonds adds a sense of brilliance and fire. This type of ring is perfect for a woman who loves classic beauty with a touch of sparkle. The oval-cut halo engagement ring is also a great choice for those who have longer fingers, as the elongated shape will help to accentuate the length of the finger.
· Emerald-Cut Halo Engagement Ring
There's something about emerald-cut diamonds that is just so regal and elegant. They have a classic shape that looks like it comes straight from the Art Deco era, yet they still feel modern and chic. And when you add a halo of smaller diamonds around the centre stone, the result is truly stunning.
The Advantages Of Getting A Halo Engagement Ring
Now that you know more about halo engagement rings, let's take a look at some of the advantages of getting this type of ring.
· Appearance
When you gaze upon a halo style engagement ring, the first thing you notice is the shimmering circle of diamonds that surrounds the central stone. This unique setting gives the illusion of a much larger diamond, creating a stunning look that is sure to capture attention. While the modern halo style is a relatively new invention, it has quickly become one of the most popular choices for engagements and special occasions. The classic beauty of Certified Diamond Network halo engagement rings is timeless, making it an ideal choice for those who want their ring to last a lifetime. If you are looking for an engagement ring that will make a statement, the halo style is sure to impress.
· Popularity
There's something about a halo engagement ring that just oozes old Hollywood glamour. Maybe it's the way the crown of diamonds creates the illusion of a larger centre stone, or maybe it's the vintage feel of the style. Whatever the reason, halo rings have been gaining in popularity in recent years, and it's easy to see why. The extra bits of bling add an extra touch of luxury, making the ring look even more expensive than it actually is. And who doesn't love that?
· Versatility
In addition to their beautiful appearance, halo rings are also very versatile. They can be dressed up or down, making them perfect for any occasion. Whether you're headed to a black-tie gala or just running errands around town, a halo ring is sure to make you feel like a million bucks. So if you're looking for an engagement ring with a little extra something, a halo ring is the way to go.
· Resilience
The halo's unique design and exquisite craftsmanship make it more resistant to wear and tear, meaning it is more likely to last you a lifetime. In addition, halos can also help to protect your diamond from damage. The surrounding metal can help to deflect knocks and bumps, preventing your diamond from being chipped or scratched.
Getting The Halo Engagement Ring Of Your Dreams
Now that you know all about halo engagement rings, it's time to find the perfect one for you. And there's no better place to shop than reputable online jewellers with years of experience such as Certified Diamond Network. Go for those that carry a wide selection of stunning halo rings, so you're sure to find one that's perfect for your special someone. These experienced jewellers will be happy to help you customise the ring of your dreams.
So what are you waiting for? Come see us today and find the perfect halo engagement ring!