Your wedding day is one of the most important days of your life. Every detail, from the dress to the flowers to the food, is carefully planned to create a perfect day. Though it might seem like a small detail, the shoes you choose to wear can make a big impact.
When choosing your wedding shoes, take the time to find a pair that you love. With the perfect pair of shoes, your wedding day will be even more special. Here are five reasons why you should say "I do" to a pair of wedding shoes!
The Perfect Finishing Touch to Your Bridal Look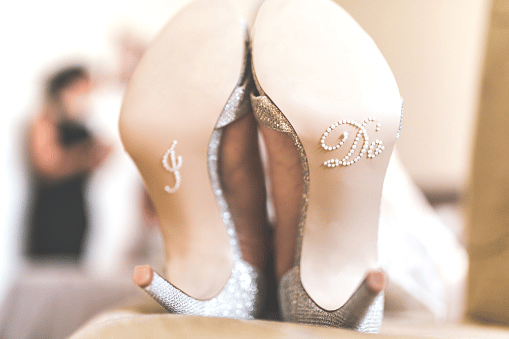 Your wedding dress is the star of the show, but your shoes are the perfect finishing touch. They can help to tie your whole look together and make you feel like a million bucks. Whether you choose a classic white pair or something with a little more personality, your shoes will complete your bridal look.
Your choice of shoes can also say a lot about your personal style. If you opt for a simple and understated pair, it might reflect your preference for classic elegance. On the other hand, if you choose a flashy and over-the-top pair, it could show that you're not afraid to put your own spin on tradition.
Make You Feel Like a Princess
On your wedding day, you should feel like a princess. And what better way to do that than with a gorgeous pair of shoes? Whether you're getting married in a grand ballroom or at your family church, you should choose a pair of shoes that make you feel like the belle of the ball.
There are so many stunning choices available, from delicate lace heels to embellished flats, that it can be hard to decide which pair is right for you. However, with a little bit of care and attention, you can find the perfect shoes to complete your bridal look and make you feel like royalty.
Can Be Worn Again and Again
Your wedding day is just the beginning of your life together. Why not choose a pair of shoes that you can wear again and again? A great pair of shoes will never go out of style. You can wear them to future anniversaries, parties, and other special occasions. They'll be a reminder of your wedding day every time you put them on.
Plus, they'll save you money in the long run. You won't have to keep buying new shoes for every special occasion. A timeless pair of shoes is an investment that will pay off for years to come.
Helps You to Feel More Confident
As you walk down the aisle, all eyes will be on you. You want to look and feel your best on your wedding day, and choosing the right pair of shoes can help you to exude confidence. Whether you opt for a classic white pump or a glamorous stiletto, make sure it's a style that makes you feel fabulous.
Just like the perfect little black dress, the right shoes can make you feel beautiful and confident. So don't be afraid to splurge on a pair of designer heels or take the time to find the perfect fit. Your wedding day is one of the most special days of your life, so make sure your shoes reflect that.
Comfortable
On your wedding day, you'll be on your feet for hours. From the ceremony to the reception to dancing the night away, you'll want to make sure your shoes are comfortable. If your shoes are too tight, you'll be constantly thinking about how much they hurt. If they're too loose, you'll be worried about them falling off.
Instead, find a pair that fits well and doesn't rub or pinch. That way, you can focus on enjoying your big day. Your wedding day is a special occasion, and you deserve to feel comfortable and confident as you celebrate with your friends and family.
Your wedding day is a once-in-a-lifetime event. Make it even more special by choosing the perfect pair of shoes. With these five reasons, there's no reason not to say "I do" to a pair of wedding shoes!