Marrying during the autumn season lets you have the best photos taken ever. With the red and orange colours surrounding the area during this season, it gives off such photogenic moments that feels magical and ancient. You can even be creative with your clothes here, since this season is particularly chilly. Did we also mention that pumpkin spice gets really abundant during autumn? Because that stuff is awesome and you can serve it during the reception if you want.
The best part is that autumn has Halloween and Thanksgiving. You can get married based on those themes though it would be better if you don't have a wedding ON Thanksgiving itself. In fact, make sure that your wedding day doesn't fall on some of the more major events during that season or else a lot of people will be disappointed that they have to miss the events just for a wedding.
Still, you can make the Big Day on days in between these events so they could enjoy an entire weekend full of big events. Same thing for you too.
Pros and Cons
Like we've mentioned, the best thing about being married in autumn is the foliage. The season gives off a really comfy weather and colour that just about makes everything majestic and gorgeous. There's also the temperate weather that makes everything easier on everyone, depending on the area you're in, at least. The décor everywhere season-inspired, which makes for very attractive photos once pictures are taken.
The best part? There is a possibility for off-season discounts that you and you future-hubby can take advantage on. Weddings are expensive, after all. If you two are sharing expenses, might as well make it easier on you both.
On the other hand, if you don't time the day right, you might end up getting some date conflicts with the other events that happen on this season, since it IS a very eventful season. The weather is also a little unpredictable, depending on the area. At times, it can be very warm and then there are times when it's extremely cold and uncomfortable. So if you're really determined to have an autumn wedding, make sure that you really think about these pros and cons too.
Autumn Flowers!
Protea – a pretty addition for your bouquet.
Sunflowers – a nice and bright change to your altar.
Marigolds – red, orange and gold! A very festive flower.
Anemones – very sophisticated for your bouquet.
Garden roses – a great replacement for peonies if they aren't blooming.
Dahlias – deep burgundy ones are perfect for the bouquet.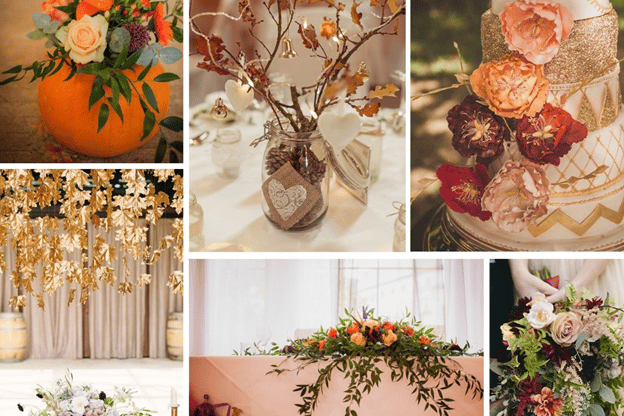 Since it's autumn, it's a great and cute idea to add in some seasonal berries and maybe even some acorns to some of the decoration done on the area.
As a side-note, Comfort Cuisine is a big trend for autumn catering.